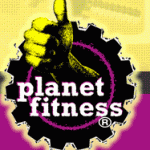 Planet Fitness just opened a fitness center here in sunny DeLand, Florida, and I am their newest member!
Yup, I joined up Friday afternoon after school. Cost?  $10 per month–actually $10.65 including the tax–plus a $29.00 one-time set-up fee and a $20.00 guarantee of the $10 per month fee for one year.  I signed up for automatic deduction of the $10.65 from my checking account, but if I want to cancel my membership before the billing on the 17th, I simply need to notify the club by the 10th of the month, either in person or by mail.
With my registration, I also got a Planet Fitness t-shirt and a Planet Fitness pen. 🙂
Working out at the YMCA had cost me $52.00 per month (family rate), but I imagine the rates there are higher now than when I left last summer; the YMCA is in the midst of a massive new construction project.  Granted, Planet Fitness doesn't have a pool, but I do my swimming in the Atlantic Ocean anyway, mostly at New Smyrna Beach and Ponce Inlet near Port Orange.  If my husband or my two kids who still live at home want to join–they are considering it–we'll still save money over the Y's family rate.
Planet Fitness is open longer hours than the YMCA, too.  Planet Fitness is open Monday through Thursday from 5:00 a.m. to 11:00 p.m., on Friday from 5:00 a.m. to 9:00 p.m., and on Saturday and Sunday from 7:00 a.m. to 7:00 p.m.  If I can't make it to the gym during those hours, then I've got too much going on and need to simplify my life!
Today will be my first workout day at Planet Fitness.  I can hardly wait!
Tags: osteoporosis, Planet Fitness, weekly workout