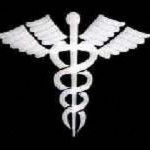 Although I no longer see Dexascan scores as the most telling indicator of bone health, I was encouraged by the results of this year's scan.  A 2.2% gain in the bone density of the hip (femoral neck), correlating with a T-score of -2.4 and a Z-score of -1.7.  No longer is my hip in the "osteoporosis" category; instead it is now classified as "osteopenia."
In the lumbar vertebrae (L1-L4), the 5.9% drop in bone density is, I believe, the result of upper body immobilization this summer due to the bike accident.  While my shoulder fractures healed quickly, recovery of the strength and mobility of shoulder muscles, ligaments, and tendons after the injury has taken several months.  Now that I have returned to both upper and lower body workouts, both at home and at Planet Fitness, I expect the bone density in my lumber vertebrae to improve this year, as it did in the 2007 Dexascan.
Having said this, I no longer believe that negative T-scores are abnormal for me.  As you can tell from my photo, I am a petite, small-boned woman.  I am of Irish descent.  I am shorter and tinier than the average woman, and so I cannot be expected to have the same weight and density of bone as the average woman.  If you've read The Myth of Osteoporosis, you understand also that bone density is not the only predictor of bone strength; in fact, it is not even the best predictor.
The fact that my shoulder fractures healed in record time this summer shows that my body is perfectly capable of building bone where bone is needed naturally, without the use of dangerous pharmaceutical drugs.  The task ahead is to continue to convince my body that bone is needed in both spine and hip by continuing regular weight bearing exercise, especially walking, running, and weight training.  I will also maintain the osteoporosis diet (80% alkaline / 20% acid), as well as allowing 7-8 hours of sleep per night.
After two years on this diet and exercise regimen, I feel great!  I am strong and healthy and full of vitality.  I take nutritional supplements, but no pharmaceutical drugs.  The only side effects of the foods and supplements I take are increased health!
So continues my ongoing success story with fighting osteoporosis…naturally!
Tags: Dexascan results, osteopenia, osteoporosis