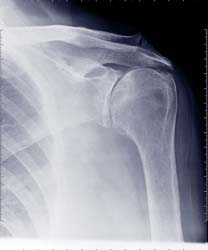 Seven months ago I fractured my shoulder in four places in a bike accident.  Following the instructions of my orthopedic surgeon, Dr. White, I initially kept the injury immobilized with a sling and swath, and eventually I started physical therapy. Using a combination of therapies, including chiropractic adjustment and massage therapy, the pain resulting from the physical therapy could be managed naturally, without the use of pharmaceutical drugs.  Thanks to this bone-building OsteoDiet, excellent health care, and lots of prayers, my shoulder fractures healed in record time!   Before releasing me as a patient, Dr. White said that I should continue to stretch my shoulder for a full year in order regain complete mobility.
I'm doing just what Dr. White recommended.  I stretch it at the gym, during home exercise, and off-and-on during the day.  I stretch it in every direction I can think of.  I stretch so much that I hardly think about it anymore.  Stretching has simply become a constant in my daily life.
And you know what?  Yesterday I noticed for the first time that, when lying on the floor to exercise, I could reach both arms overhead and touch the floor with the fingers of both hands!  I wondered if I would ever be able to do that again with my left arm, and now it has happened.  In all other directions, I had already recovered full mobility of my shoulder joint, but until now I still couldn't quite touch the floor with the fingers of my left hand overhead.  Now that I can do that, I feel sure I will be able to recover 100% overhead mobility, too!
Seven months later the good word is still…STRETCH!  🙂
Tags: osteoporosis; broken bones; fractured shoulder; Dr. White