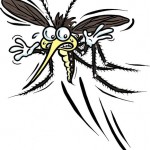 When I'm out walking or running as my weight bearing exercise here in Central Florida, I'm sometimes bothered by hungry mosquitoes.   So, what's a devoted bone builder to do?
Here's a handy trick.  You can keep mosquitoes from attacking by mixing in a spray bottle:
1 tsp vanilla extract
1 cup water
Spritz the mixture on your pulse points, and no more mosquito bites!  The aroma of vanilla blocks mosquitoes' antennae receptors, keeping them from detecting your scent.
Tags: mosquitoes, osteoporosis, vanilla, weight bearing exercise