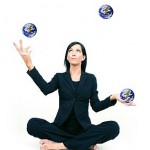 For Teachers:  Part 1 of Balancing School, Home, and Health – Attitudes that Encourage a Healthy Balance
Last week I received this question from a reader who is also a teacher like me:How do you do it all once the school year starts?  How do  you find the time to prepare a healthy diet, keep up an exercise regimen, and take care of your family and school work?
Good question!  Actually, it requires setting priorities, organizing my time, and staying flexible.   No two days are exactly alike around here, but I can still plan around the basics.  Underlying my plan are a set of three attitudes that encourage me:
1)  It is not selfish to want to live a balanced life! We've all heard the saying, "All work and no play makes Jack a dull boy."  Well, all work and minimal self-care makes Jane a stressed girl, too!  It's entirely possible to lead a busy life of giving to others, if you nurture yourself first.  If you've ever flown on a major airline, the flight attendant always directs passengers, in case of sudden drop in air pressure, to place an oxygen mask over their own nose and mouth before attempting to help other passengers.  You won't be able to do much good for others or yourself if you're passed out from oxygen deprivation!  Just so, you won't be able to serve others well unless you take care of yourself.
2) There is nothing wrong with doing fewer things and doing them well.  To do something well is worthy. I used to try to do everything–every task that was asked of me.   I felt like I was letting people down if I didn't, but I paid the price for overcommitment in unmanageable stress.  Now I am selective, knowing that I have just so much time to devote to the various priorities I have set.  Doing fewer things has allowed me to do well the tasks that I decide to take on.  And to do something well is worthy.
3) Love God with everything you've got, and love your neighbor as yourself.  That's Matthew 22:35-40 in a nutshell (emphasis mine).  Notice the phrase "as yourself."  Taking care of yourself–loving yourself–is a prerequisite for true love of neighbor.  As the saying goes, "You can't give what you ain't got."  If your health and peace of mind go down the tubes and your well runs dry, how will you be able to be a fountain of life for others?
Next:  How to set priorities for optimal health and happiness!