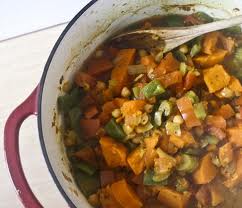 Our new OsteoDiet version of Gypsy Soup substitutes lentils (which are medium alkaline-forming) for garbanzo beans (which are low acid-forming).  
Note: For quick information about the effect of various foods on pH levels, a handy reference for your kitchen is The Acid Alkaline Food Guide by Susan E. Brown and Larry Trivieri, Jr.
The long list of ingredients makes this look like a complicated recipes, but it's not.  Once you have the sweet potatoes diced, the rest of the prep is a breeze!
You will need:
Stock pot
2 tbsp. olive oil
2 cups onion, chopped
1/2 cup celery, chopped
2 cloves garlic, crushed
2 cups sweet potatoes, diced
2 tsp. paprika
1 tsp. ground turmeric
1 tsp. dried basil
1 tsp. sea salt
1/8 tsp. ground cinnamon
1/8 tsp. cayenne pepper or crushed red pepper
1 bay leaf
4 cups chicken broth or vegetable broth
1 tbsp. tamari
1 cup fresh tomato, chopped
1 can of organic lentils
3/4 cup green bell pepper, chopped
Directions:
1.  Saute onion, garlic, celery, and sweet potatoes in olive oil for about 5 minutes, or until onion is soft.
2.  Add paprika, turmeric, basil, salt, cinnamon, cayenne, and bay leaf.  Stir to blend.
3.  Stir in broth and tamari.
4.  Cover and simmer over low-medium heat for about 15 minutes.
5.  Add tomatoes, lentils, and green pepper.  Simmer over low-medium heat for another 10 minutes, or until all of the vegetables are tender. 
Enjoy!