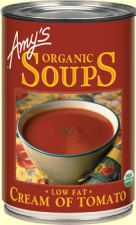 How about this for a different sort of breakfast?
Bowl of Amy's brand Cream of Tomato Soup
2 oz. Colby Jack cheese, sliced thin and rolled up
Greens Shake with PaleoGreens Powder (mint flavor) + 1 tbsp. liquid chlorophyll (Red Apple Flavor)
You get vegetables and protein in an delicious, easy to prepare  meal.  What more could we ask from breakfast?
Enjoy!
Kathy