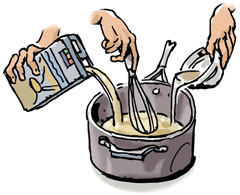 We served turkey often around here, mostly turkey and gravy or turkey sandwiches.  For a change of pace, here's a yummy turkey recipe with some alkalizing veggies!
You will need:
Skillet or large pot
2 cups cooked turkey, cubed
3 tbsp. Earth Balance buttery spread
1/2 cup diced celery
1/2 cup chopped onion
1/2 cup thinly sliced carrots
3 tbsp flour (I prefer organic spelt flour, but almost any flour will do.)
1-1/2 cups turkey or chicken stock
2 lightly beaten eggs
3 tbsp cooking wine or dry white wine (optional)
Minced parsley or nutmeats for garnish
Melt buttery spread in a skillet.  Stir in and saute celery and onion until golden brown.  Sprinkle flour over the top; stir in and cook slowly about 5 minutes.  Stir in stock gradually.  Stir in eggs and turkey meat.  Stir over low heat just long enough to let the sauce thicken.  Add wine, if desired.  Season to taste.  To serve, pour the mixture into a large casserole and sprinkle minced parsley or nutmeats on top.  It's especially yummy when served over brown rice.
Bone apetit!