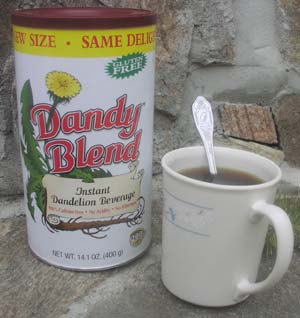 Dandy Blend™ Instant Herbal Beverage with Dandelion has to be one of the best bone-friendly discoveries I've made in a long time!
What it's for:  When I want to enjoy the rich, deep flavor of coffee, but don't want the acid or bitterness, Dandy Blend comes to the rescue!

What's good about it:  Made from extracts of roasted barley, rye, chicory root, dandelion root, and beet root, Dandy Blend™ tastes delicious and is gluten-free, acid-free, and 100% caffeine-free!
What's bad about it:  I still need to use creamer.
It's better than:  Decaf coffee because Dandy Blend™ contains no acidity!
It's not as good as:   Hazelnut coffee…my favorite…but hey, Dandy Blend's alkalinity helps me build bone density!
Why I use this product:  I love coffee, but if I'm going to have a hot beverage, I'd rather drink one that alkalizes my blood pH.
Best place to get it:  My local health food store, but you can also buy it online.
For more information about the product, visit http://www.dandyblend.com.