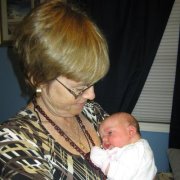 Here's…Lucy!  Our little Lucy was born on September 21, 2012, weighing in at 7 pounds, 7 ounces and 21 inches long.  She joins her big brothers, John and Ben, as the third child of the Kennedy family and the thirteenth grandchild of her pleased-as-punch grandparents, Kathy and George Alford.  🙂  What a blessing it was to be able to spend three weeks with our daughter, Mary, and her beautiful family!
Now that I am back home in DeLand, I will start posting the stories that have lined up concerning osteoporosis and bone health, as well as responding to comments that have come in from readers.  Thank you for your patience!
Welcome to the world, Lucy Kennedy!
Love,
Nana (Kathy)