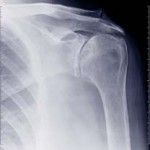 Today was my last visit with Dr. White because…my shoulder fracture is healed and mobility is nearing 100%!
Dr. White did have some words of advice as he sent me on my way.  Continued stretching, he said, is essential over the next year.  He suggested finding a door in my house that is strongly hinged and stable, moving a step stool up to the door, and then grabbing the top of the door with  my left hand and hanging down from it, using the step stool for leverage.  If I pick a doorway that I walk through several times a day, I should spend 30 seconds hanging on it every time I walk through.  Dr. White said that this stretching exercise will help me recover the last few degrees of mobility in shoulder that so far have eluded me.
With those words, he set me free!  The rest of my treatment program is up to me.
Tags: Add new tag, bone healing, Dr. George White, osteoporosis, Shoulder Fracture, shoulder mobility