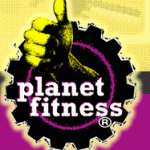 Working out at Planet Fitness is everything it's advertised to be!  It's a "no judgement zone" where you are free to choose cardio, fat burning, stretching, or whatever, and where you receive support to fulfill your goals.
Wednesday evening I attended the introductory class in "Designing Your Workout Plan."  Robert, the personal trainer, asked about my physical conditions, medications, and goals.  I told him about the diagnosis of osteoporosis, my bike accident this summer when I fractured my shoulder, my alkaline diet, and that I take supplements, but no prescription medication of any kind.  He said I was "very lucky."  Most people my age, he said, are on pharmaceutical prescriptions of some kind.  We established three goals:  1) To build muscle strength and bone density, 2) To keep my weight down, and 3) To stretch the shoulder so that it maintains or increases its range of motion.  (I should have added a fourth goal–that I am planning to run in the "Turkey Trot" 5K race on Thanksgiving–but I didn't think about it at the time.)  Robert took me on a tour of the workout equipment and showed me how to set them up and use them, and he recommended a target heart rate of 116 on the elliptical machines.
I got right to work.  The upbeat music in the gym really gets you moving!  You can bring your own headset with you and plug into the audio for a slew of TV's that are set up in front of the treadmills and elliptical machines.  You can bring a closed container of water, too, to keep in the cup holders as you make the circuit.  If you bring your purse or other valuables, you can bring your own lock and tuck them away in a locker.  If you forget your headset or bottled water, they have vending machines up front where you can purchase them on site.
Seems like they've thought of everything at Planet Fitness!  Hope to see you there!
Tags: building bones, osteoporosis workout, Planet Fitness, weekly workout