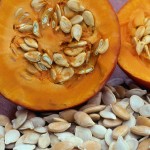 Munching on freshly roasted pumpkin seeds has to be one of my favorite treats this time of year!  Try this recipe for a tasty treat with surprising health benefits.
You will need:
1 pie pumpkin about 8 inches in diameter
Aluminum foil
1 9′ x 13″ glass pan
1 tbsp. of Earth Balance buttery spread
Salt to sprinkle on top
Cut the pie pumpkin in half.  Spoon out the strings and seeds into a bowl.  Separate the seeds from the strings, and put them in a separate bowl.
Next, lay the pumpkin halves in the glass pan, face up.  Arrange the seeds in the glass pan around the pumpkin halves.  Dot the seeds with buttery spread.  Cover the pan with aluminum foil and bake for about an hour at 350-375 degrees.  Remove pumpkin and mash to use in making pumpkin pie, pumpkin bread, etc.  Remove the seeds to a place to cool for a few minutes.  Sprinkle with salt, and your roasted pumpkins seeds are ready to eat.
Enjoy!
P.S.  Did you know that eating pumpkins seeds helps eliminate parasites from your digestive tract?  It's true!
Tags: osteoporosis, pumpkin seeds, Recipes