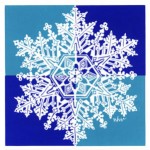 If you're like me,  cold weather crimps your style.  When Jack Frost moved into the neighborhood,  I huddled indoors, away from freezing temperatures and nature's withered appearance, until I began to feel depressed and lifeless myself.  This year I decided to beat the winter blues.  I talked to friends, searched my soul, and surfed the Internet to find ways to spend a happy, healthy winter season.  Following these Top 10 tips has lifted the fog from my cloudy mood!
1) Pray for God's help to focus on the upside–the good things that are happening around you–rather than the downside of winter.  While there may be no flowers blooming or butterflies floating on a balmy breeze, neither are there mosquitos to bite you or bees to sting you.  Allergies are minimal.  The grass doesn't need mowing.  Think positive!
2) Take hot showers.  After washing and warming up thoroughly, improve the efficiency of your body's thermostat by alternating hot and cold showers for the last few minutes–30 seconds as hot as you can take it,  and then 30 seconds as cool as you can comfortably stand.   End on the cold water shower to close your pores and keep in your body heat.
3) Dress brightly!  During winter people tend to dress in browns and grays and blacks to match their surroundings, but dressing darkly can be depressing in itself.  Dressing warmly in reds, blues, yellow, greens, and even whites and pastels can brighten your mood–and that of those around you–the way spring flowers do.
4) Eat healthy, warming foods.  We're naturally inclined to eat soups, stews, and heavier foods in winter.  Why not give heartier fare a healthy boost with immune-boosting ingredients, such as garlic, onions,  and shiitake and maitake mushrooms.  Avoiding sugar and caffeine, though.  Caffeine tends to make the body lose water, and processed sugar puts a strain on the pancreas and sets up an environment in the colon that is susceptible to candida yeast invasion.
5) Force yourself to go outside.  Get light and fresh air everyday.  Deep breathe. No, it's not as much fun for us warm-weather people to spend time outdoors in the cold, but our bodies are happier and healthier if we do!
6) Moisturize.  Drink more water.  Drink hot teas and soups.  Hydrate and moisturize your skin after showers and when needed throughout the day.  You may not feel as thirsty during the winter as you do during summer, but your body still needs 6-8 glasses of water for optimum health.
7) Make sure you keep moving.  Stretch, lift weights, walk, run, go to the gym, work out at home with exercise DVD's…whatever it takes to keep the body strong and flexible.
8) Grow indoor plants.  Although outdoor plants appear shriveled and lifeless, your home can be filled with the indoor beauty of a wide variety of colorful houseplants.
9) Do" indoor" things that stimulate your creativity and vitality. Visit museums and art galleries,  go to concerts and films, hang out with friends and go shopping.  Go to Barnes & Noble to read, drink some hot tea, and take home a new book.  Go out for dinner. Find ways to entertain yourself at home.  Winter is a perfect time for playing an instrument, taking photos, doing crafts, and writing letters.
10) Avoid stress by adjusting your schedule as needed.  Don't strain to make your winter schedule match your summer schedule.  After all, summer days have about four more hours of sunlight than winter days do!  So,  work when you can.  Sleep when  you can.  Exercise when you can.  Pray when you can.  Be flexible and open to changes in timing.  Sometimes those changes can be just what you need to tune up your day and feel great!
Be blessed!
Kathy
Tags: bone health, osteoporosis, SAD, seasonal affective disorder