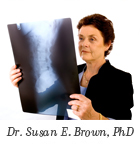 A friend referred me to another great website for information about building bones naturally:  Better Bones!
At The Center for Better Bones , directed by Dr. Susan E. Brown, PhD., the staff promotes an all-natural approach to bone health using consultation and guided programs that include nutrition, diet, exercise, and lifestyle education.
You can check out Dr. Brown's website by clicking on this link:  http://www.betterbones.com.
Tags: bone health, natural cures for osteoporosis; BetterBones.com, osteoporosis