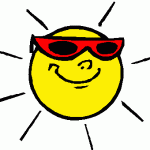 Now that summer is here and school is out for a couple of months, I have some definite goals for OsteoDiet.
First, a ton of information will be coming your way about nutrition and its effects on our bones.   I recently accompanied Dr. Bourne to a convention at Standard Process, maker of the whole food supplements I now take.  What I learned there about bone health and nutrition may surprise you.
Second, several readers' questions have come in that are of general interest.  I'll be addressing those inquiries day-by-day.  If you have questions or comments, please feel free to leave a comment below or to write me at kathleen_alford@yahoo.com.
Third, I'm in the process of creating and publishing our first OsteoDiet cookbook!  If you have favorite recipes you'd like included in Volume 1, be sure to let me know.
Fourth, it's time for a one-year progress report on my shoulder fractures that healed in record time.  Coming soon!
Fifth, I'm enjoying a bouquet of exercise activities this summer!  You can, too!  I'll tell you all about it.
Finally, well…the rest is a surprise.  Stay tuned!
Tags: bone health, osteoporosis