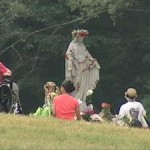 Who would have believed that one year after my shoulder fracture I would be mountain climbing?  The good news is that's exactly what  happened!
In our recent trip to Caritas, Alabama, George and I joined hundreds of others in climbing a mountain to a Marian grotto carved into the side of a mountain.  Near the top the climb was so steep that we had to pull the weight of our bodies up the slope using ropes.  Thanks be to God, all the weight training, physical therapy, and stretching paid off!  My shoulder did just fine.  The only body parts that ached the next day were my thighs.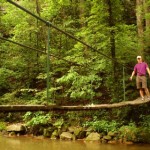 If today you are in the throes of pain and discouragement from a shoulder fracture, take heart!  Keep stretching and moving your shoulder according to doctor's orders, and know that healing and strength will come.