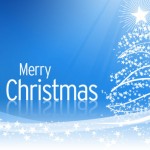 Merry Christmas, OsteoDiet readers! I hope you enjoyed your holiday as much as I did. All nine of our children and their families came, as well as my parents and my aunt–but not all at the same time. Some came for breakfast, while others came for dinner. Although we couldn't quite pull off a new family photo, I took lots of pictures and will make a family collage of Christmas 2009.
Christmas is my time to splurge and enjoy all the foods of the feast, even those not on my OsteoDiet. Along with the healthy fare of fresh fruit salad, applesauce coffee cake, cataloupe, steamed green beans and onions, and lean steak, I had several OsteoDiet no-no's: coffee, popcorn, chocolate cake with frozen yogurt, a hashbrown casserole that contained both sour cream and cheese, and a three-cheese lasagna!
I don't regret the one-day splurge one bit, but I'm immediately returning to my usual routine. In fact, I think it's time to tighten up my health regimen a bit because I've been getting a little lax lately.  It's easy to forget what made me healthy in the first place when I wake up feeling strong and energetic!
In a nutshell, here is what has worked for me:
1) 80% alkaline/ 20% acid diet. Lots of fresh veggies and fruit, selected seeds and nuts, and modest portions of meat make for strong bones and a healthy body.  No processed flours, sugar, or meats. No fried foods. No soda or coffee. No dairy products (for me–I don't metabolize them well.)
2) Water, water, water! Try for 8 glasses per day. Herbal decaffeinated teas are good, too.
3) Faithfulness to taking my daily supplements.
4) Daily sunlight. Aim for 20 minutes or more.
5) Exercise, especially weight-bearing exercise and stretching.
6) Sleep 7-8 hours per night. Rest when needed.
7) Gratitude for God's blessings, positive attitude about the events of daily living ("Cast all our cares on the Lord, for He cares for you…"), and dedication to fulfilling His will for my life.
Thankfully, I have a large selection of menus from The Daily Diet menus to help me stay on track, as well as a gym membership at the YMCA, a couple dozen exercise videos/DVD's, and a supportive family.
I'm starting today to get a jump on the New Year.  Starting weight:  123.2.  Goal:  115.0.  One pound loss per week would put the projected date for achieving the goal at February 21, 2010.
Happy New Year, everyone!
Kathy
Tags: osteoporosis diet