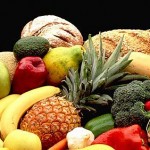 Upon waking: 
Probiotics capsules + 8 oz water
After showering:
Green tea with juice of a lemon
Breakfast:
Omelet with tomatoes, onions, green peppers, and shredded cheddar cheese
2 slices of millet toast with Smart Balance Buttery Spread with olive oil
Coffee with 2 tbsp. of half-and-half
Lunch:
Taco salad
Apple
16 oz. water
Supper:
Chicken with sauteed green beans
Mashed potatoes
8 oz. water
At bedtime:
Supplements
16 oz. water.
Tags: Daily Diet