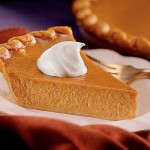 Here's an improvement on the traditional pumpkin pie recipe, created by my daughter, Sarah. She replaced half the evaporated milk with unsweetened almond milk, and she substituted Xylosweet for regular sugar. We all think it tastes better than any pumpkin pie we've ever tasted before–and it's more bone friendly, too!
Combine the following ingredients, mixing well after each addition:
2 eggs
1 can Libby's pumpkin
1/2 cup Xylosweet
1/2 tsp. salt
1 tsp. cinnamon
1/2 tsp. ginger
1/4 tsp. nutmeg
1/4 tsp. ground cloves
3/4 cup evaporated milk (1/2 of a 12-oz. can)
3/4 cup almond milk, unsweetened vanilla flavor
Pour into a 9″ pie crust. Bake at 425 degrees for 15 minutes. Reduce heat to 350 degrees and bake for an additional 45 minutes. Pie is done when knife inserted in center comes out clean. Serve with Soy Whip for an extra treat!
Tags: osteoporosis, pumpkin pie, Recipes, Xylosweet