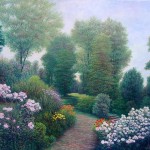 My dear Friend (you know who you are),
I'm  so excited that you want to begin this journey! We will walk together, traveling slowly while you get your bearings, then move faster along the path as your way becomes easier and lighter.
Your first step was to pray, but you're already doing that.   Along with prayer, please do the following:
Buy a roll of pH testing tape from your local health food store.  Test your saliva and urine to determine their pH level.  They might not match, but they will still give you an indication of your body's acidity or alkalinity.
Buy some raw almonds, apples, celery, and bottled water for snacks.  Wal-Mart usually has raw almonds for sale in the produce department, and our local health food store (DeLand Bakery and Natural Market) has them, too.  Be sure to eat when you are hungry, even if you only have time for a handful of almonds and a few swallows of water.
Take a walk every evening for 10-15 minutes.
Look over the recommended foods on the list of alkaline foods, and decide which foods you would most like to start including in your menus.
Also, please consider buying a rebounder from Wal-Mart or Sports Authority and a set of 2-pound or 3-pound hand weights.
That's all for now.
My Friend, please write me back when you are ready for Step 2 by leaving a comment below and signing it with the name, "Friend."  🙂
With love and prayers,
Kathy