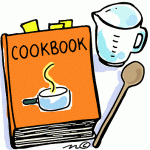 Here's the skinny:  It's been more than a month since I've written because it's been an extremely busy month, both at home and at school. As we've talked about before, when juggling priorities you sometimes have to let a few balls drop in order to keep the rest in balance.
However, the fact that I haven't been writing, doesn't mean I haven't been thinking about you.  Actually, I've been thinking a lot about what would make it easiest for busy OsteoDiet readers to build bone consistently. What could I do to help all of us maintain a bone-healthy diet, as well as daily weight-bearing exercise?  I've come up with a few ideas, and I'd like to know what you think.
1)  If I compiled a hard-copy OsteoDiet Cookbook, would you be interested in buying one?
2)  If I created exercise DVD's featuring weight-bearing exercises, including stretching, weight training, balance exercises, running/walking, or bellydancing routines, which of these  DVD's would interest you?
3)  Would you be interested in reading a book that contained information about my journey, the alkaline diet, and research about bone strengthening?  If I did write a book about the natural approach to bone health, what else would you like the book to contain?
Your thoughts? I'd appreciate your comments.
Thanks!
Kathy
Tags: osteoporosis diet