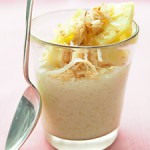 You will need:
1 saucepan
1 long-handled spoon for stirring
6 dessert bowls
Ingredients:
1 egg
3 tablespoons of Minute Tapioca
2+3/4 cup Almond Breeze almond milk (vanilla, sweetened)
1 teaspoon vanilla
Mix all ingredient in a medium saucepan. Let stand 5 minutes. Cook on medium heat, stirring constantly, until mixture comes to a full boil. Remove from heat. Cool 20 minutes in the pan. Stir well and pour into dessert bowls. Serve warm or chilled. I like to serve it chilled with fresh fruit on top.
Enjoy!
Tags: osteoporosis diet, Recipes