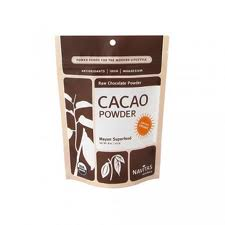 I haven't tried this snack recipe from Vivian Goldschmidt of SaveOurBones.com yet, but today I plan to pick up the ingredients not currently on my shelf and give it a go.  It sounds yummy to me!  
You will need:
Mixing bowl and spoon
2 tablespoons almonds, chopped or whole
1 tablespoon walnuts, chopped or whole
1 tablespoon sesame seeds
1 tablespoon pumpkin seeds
1 tablespoon raisins
1 tablespoon honey (adjust to taste)
1 teaspoon cacao (chocolate) powder*
Directions:  In bowl, mix all ingredients till nuts and seeds are well coated with honey and cacao powder.
Note: You can use unsalted or salted, raw or roasted nuts and seeds.
*The organic unsweetened cacao powder Vivian uses is:   Navitas Naturals Organic Cacao Power Raw Chocolate – 16 oz
Tags: Desserts, osteoporosis diet, Snack recipes