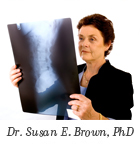 Want to learn in a nutshell all about incorporating the alkaline diet into your lifestyle?
Dr. Susan Brown of BetterBones.com has created three quick videos on the subject that are well worth the time to watch!  Dr. Brown's videos are amazingly concise, yet contain all the basics you need to know in order to use the alkaline diet to rebuild and maintain bone health.  To see all three of these outstanding videos, please click on this link:
http://www.betterbones.com/blog/post/Tips-for-alkaline-diet.aspx?