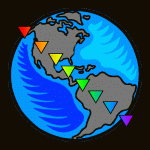 Today I began keeping track of my fitness activities on our "Walk Around the World" tracker, posting 2.1 miles for Day 1.   Here's how it worked:
My fitness activities today included 30 minutes of upper body weight training and a one-mile walk at a moderate pace.  According to the fitness activity chart, each minute of weight training (moderate) = 87 steps, so 30 minutes times 87 steps = 2610 steps total.  Using the Steps to Miles Calculator, I entered my average stride length of 2.3 feet and the 2610 steps, and then I clicked "Submit."  My 30-minute workout turned out to be equal to 1.1 miles.    That, plus my one-mile walk, gave me 2.1 miles for the day, which I just entered on the tracker.
Want to join me?  Just write me back in the comments section below, telling me what "Teammate Name" you would like to use. I'll add you to Team OsteoDiet.com, and you'll receive a Password so that you can post your own mileage on the WATW tracking chart .   It's that easy!
Enjoy!
Kathy

Tags: bone health, osteoporosis, Walk Around the World, weight bearing exercise