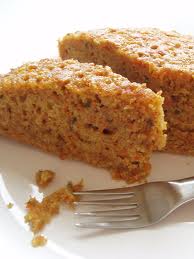 Who would have thought that carrot cake would taste even better if I replaced the canola oil with fruit?  I wasn't too sure, but I'm a believer now!  This carrot cake is deliciously moist, and it's good for your bone health!
You will need:
Large mixing bowl
a 9 x 13 glass baking pan -or- a bundt pan
4 eggs
3/4 cup agave nectar
1/2 cup applesauce, unsweetened
1/2 cup crushed pineapple, in its own juice (not syrup)
2 cups barley flour
2 tsp cinnamon
2 tsp baking powder
2 tsp baking soda
1 tsp salt
3 cups grated carrots
1/2 cup chopped pecans
Directions:  In large bowl, mix together the eggs, agave nectar, applesauce, and pineapple.  Add flour, cinnamon, baking powder, baking soda, and salt, and mix well.  Stir in carrots and pecans until the batter is well blended.  Bake at 350 degrees for about 40 minutes, or until an inserted knife comes out clean.  Instead of icing, serve topped with So Delicious brand frozen coconut milk dessert.  Scrumptious!
Tags: Desserts, osteoporosis diet, Recipes